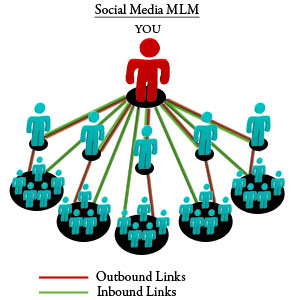 Yes, I'm convinced of it; social media (SM) is Amway. After reading a blog post by Jay Baer (@jaybaer) last week, entitled 'Blinded by the White,' I've been mentally engrossed in a thought that – not unlike other industries – social media leaders have emerged and surprise, surprise they look alike! While I slightly disagree that social media is a good ol' boys' club akin to the NRA in it's pastiness, I do feel as though there is an elitism and social strata that I've yet to figure out.
A good friend, and social media mafia under boss of sorts, David Murray, had a different take on Jay's post, though. He noted that there is diversity but posed the question of whether or not SM is the new country club. I tend to be more in line with this type of thinking about SM. I don't see the industry as closed off to minorities and women so much as I see there being an elite group of practitioners receiving the bulk of the benefit of SM – trickle down social-nomics, if you will.
I've had this idea for a while, but Jay's post and Dave's comments really helped crystallize the thought for me. There are some excellent social media practitioners from every demographic in this space. However, there are only a select few that get the benefit of what I like to call the echo chamber of SM. Given that this medium is naturally set up so that anyone can inexpensively gain scale, why is it so difficult to break through? There are likely two reasons this is true.
Like Amway, the first and biggest suck up all the value and leave their followers fighting over scraps. Unless those followers can create their own sphere of influence, they'll forever be a victim of being too low in the "down line" to effectively monetize the medium.
The elite have built a network to make sure their revenue streams are interconnected and thusly less susceptible to the publics' cyclical undulations of relevance and popularity. By them promoting each other we continue to buy all of their books, go to their conferences, pay their speaking fees and read their blogs.
Don't misunderstand my bluntness here, either. I'm not knocking the hustle, merely pointing it out as a matter of human nature and fact. No matter how great of a post I write, why would a Chris Brogan or Amber Naslund read it, promote it or even have the time to do so?! They're busy and I don't offer enough value for them to take that time. I make time/benefit decisions every day in my work, and am sympathetic to the plights of busy people.
The rub, however, is in the rhetoric. It is difficult for me to see posts about engagement, sharing and community, by the leaders of the movement, but little reciprocation. Instead, I feel like I'm 10 years old again, and I can hear my Dad saying, "do as I say, not as I do" while peering authoritatively over the top rim of his glasses. The elite benefit by massive followers sharing their material, therefore building up their social influence and allowing them to capitalize – handsomely – on that influence. However, there are very few times that I have seen or felt the tug up the ladder.
Hey if I was the Steve Van Andel or Doug De Vos of SM, I wouldn't have time for you peons either. Luckily this is not a goal of mine but I would like to see growth by some of the other smart people in SM I know. So, it would make sense to put down our sycophantic ways and begin to create new networks that support quality individuals that have simply not gotten the traction from the faction.
Who's with me!? If so, please Tweet this and tell people how awesome I am; I hear it's great for my social street cred. Not to mention, if you scratch my back I'll scratch yours. No, seriously, I'm not big enough to ignore you yet.