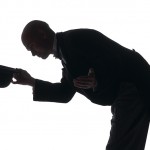 As of today, I am calling on all marketers to respect their prospects this year.  Too often, I see SPAM, intellectually lazy communications, and a general lack of respect for the message receiver. I ask Marketers, what do you do when someone screams at you? You may hear, but you don't listen. 
The same happens when your communications are unexpected, too obtrusive, or inconsistent with prospect's wants.  Remember, your communication IS the organization to many people. If your communication approach, style and words are crummy, then so is the company you represent.
I see no reason why this year can't be the best year ever for dialog between businesses and consumers there has ever been. Social Media and Web 3.0 technologies are making this more of a reality than ever. If you need further proof, just take a look at what Domino's "Oh Yes We Did" campaign – it is brilliant. They have successfully turned a negative conversation into one that says, "I hear you and I'm doing something about it."
I don't think this marketing campaign occurs without the advent of social media. More importantly, the consumer gets what it wants, the business benefits and everybody's happy. With this in mind, I'm putting together a Marketer's Code of Conduct. Some of the highlights are as follows, but you can click here for the full download to become a part of the movement.
I will not spam prospects without cause
I will not buy email lists from people unless they have requested to be contacted
I will listen to my consumers and prospects
I will create engaging content
I will develop and foster dialog
If you like what you see, join the movement today! By signing Marketer's Code of Conduct you will say to the world that I am a responsible and respectful marketer. We all look forward to running campaigns that promote the best of the industry, and you can help accomplish it! Thank you for your help, in advance. Please send all signed copies back to Therran at  therran@oliphantconsulting.com, or fax to 248-924-2955 so you can be published on the responsible marketer list!