If you do not change your direction, you may end up where you are heading.
The conventional wisdom in mobile advertising is that application inventory constitutes roughly 80(ish) percent of available inventory. This, as a general statement, is true. Without fail, every survey or OS use measurement stat states that somewhere between 80-89% of time is spent in apps. Often that translates into advertisers' mobile advertising mix mirroring that ratio – or an even higher percent in-app.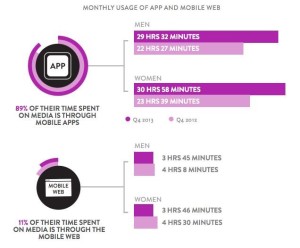 Yet, when it comes to opportunities reaching interested consumers on mobile devices there may be some facts not taken into account that might be worth review. Simply, how do customers use apps versus the mobile web, and does that constitute a change in ad receptivity?
More often than not the point of advertising is to convert/conquest/add new consumers and loyalists. App usage follows some patterns that may be antithetical to this goal.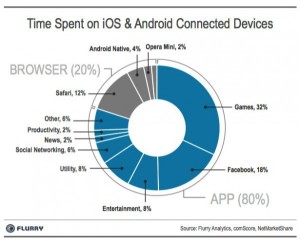 Apps are used for activities like social networking, gaming and entertainment
App activities are typically high engagement which cause a higher amount of time spent
High usage regularity means the same eyeballs are often seeing the same ads…and still not engaging
Mobile websites are a part of the shareable internet, which means their discoverable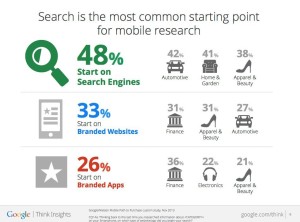 The above statistics from Google highlight that branded apps only represent 26% of research while over 87% of researchers are starting on search or websites. On the surface this seems like a great stat for mobile search advertising, which it is. On second thought, it's also a statistic that tells us even more about behavior which can be helpful for mobile display advertising. When on mobile sites, users are more in discovery mode. If engagement rates from mobile devices tell us anything, it's that an enormous number of impressions go either unnoticed or not interacted with in any way.
If the preponderance of ads are served in an environment where behavior is less conducive to ad engagement, simply due to mindset during use, then it is likely that there will be fewer opportunities to engage prospects. Yet, the data, location reporting and app traffic is high in-app. This presents a serious conundrum.
In this post, I don't give the answers, only ask the question…
Should app-based advertising be a smaller mix than the 80% traffic volume it represents?
Are we putting enough incentive on mobile web publishers to provide better data for advertising effectiveness?
Do you have other questions you want answered? Calling all advertisers, mobile data providers, ad servers and publishers – what say you?
What I'm trying to say is, the most traffic isn't necessarily the right traffic and if it isn't then what's the right move to make when considering a mobile display advertising campaign?